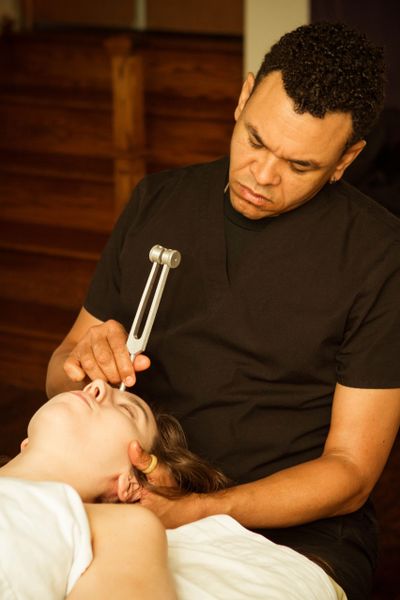 Client Feedback
"I have had Tony before and I was so happy to see him again today. He is wonderful. Not only is he a great massage therapist but he heals your mind, body, and soul all together."
"He was amazing! I came in with a throbbing sharp pain in my neck and I don't feel it anymore now. He was everything I wanted in a massage therapist. He was professional, kind, compassionate, aware and gentle as well. I feel so much better and I'm so glad I cam in for a massage today. Thank you so much."
"Tony was great! Very professional and patient. He dind't rush at all and he suggested at home stretches that would help me in between session. Thanks.
"Recently visited for a massage session, and left feeling completely relaxed and peaceful. Tony strives to understand his client's needs by deeply listening as the client expresses their areas of pain or ailment in the body both physically and energetically. He provides intuitive energy work to help heal these areas during the massage session. He is professional, caring, and present. A rejuvenating healing experience.
"I just had one of the best massages of my life! I get regular massages from all types of places including asian parlors to high-end spas around the world. Tony was very professional and worked to meet the needs of my body. I left refreshed and relaxed. I appreciated that he worked to get all the kinks and knots out of my back. I highly recommend this place. It is easy to find, but I was unsure at first. The facility is located in a residential area. You need to walk along side the house on the street parallel to the home address. He keeps the door locked for privacy, so be patient for your assigned time. If I lived closer, I would be a regular!"
"Tony is so kind and my massage was great! I would definitely go back and may also buy one for my friend as a birthday gift."
"I love all massages but this is by the far the best massage I've had. Tony is warm, welcoming, and knowledgeable. His massages are so soothing, and I always leave feeling more relaxed and rejuvenated. Definitely recommend The Love Warrior!"
"Tony is an excellent and warm healer. This was hands down the best massage I have ever had and I will be a repeat customer."
"Healing in every possible way! He was really able to help my back and hip pain. A wonderful experience."
"Tony is kind and caring. The massage was preceded with a conversation that was healing in and of itself...and that was before any contact was made. There is a peace and depth about Tony and the massage was energizing and calming all at the same time. I felt a greater balance following the massage that lasted for days."
"It's hard to put into words what the experience was with Tony. It's so much more than a massage. He was so in touch with the work he was doing, with himself as a healer, with me and what I brought, with the collective energy. His comfort and care and the way he saw us (both my husband, and me) with his heart from the time we entered his space was beyond what I would expect from a 'massage' experience and from a first time being with someone. I trusted him. He incorporated so many things, including, but not limited to touch, movement of energies, aroma therapy/essential oils, wonderful music, sound and vibration therapy, massage... The experiences for my husband and me were unique and personal to each of us and what our bodies and energy brought that day. We both look forward to Tony's work with us in the future, as well as having him do work with our two sons. We are grateful and feel so lucky to have found him!"
"This was hands down the most incredible, spiritual, amazing massage! Tony was extremely welcoming and flexible with my schedule (I booked doubles). I originally purchased two massages for my aunt and I via groupon but immediately booked an additional four massages (3 as a gift and one for myself💚). I live in ny and was only in Chicago for a quick week but feel so grateful to have found this establishment. Tony has a natural gift and seems to find immense joy in using it to heal others. I definitely recommend the Love Warrior and I will be coming back every time I'm in Chicago!"
"This was my first experience with Tony's dynamic approach to massage and healing. He is very gifted in his work and incredibly intuitive by nature. My experience was incredibly positive as I was able to release pain, heavy energy, and set my mind at ease. I will certainly be back again!"
"Meeting with Tony was a great experience. His intuitive approach is quite healing in a variety of ways. I am very grateful for the time."
"Tony is a very skilled massage and energy worker. He really listens to what you say you need/sore spots, but also intuitively listens to what your body is telling him it needs. You will come away feeling relaxed and rejuvenated and lighter! Fabulous experience."